As mentioned in my catch-up blog entry on the 10th of August, last week saw the big bikes sitting idle while we got in some much-needed exercise riding our tandem bicycle on both Saturday and Sunday. On weekends like that I truly believe it's my wife, Debbie, who misses getting some saddle time on the Harley more so than me, since my daily commute to and from work gives me a steady fix of two-wheeled big-bike joy!
So, I'm not sure we'll make it until early October before our next long big bike trip.  I'm thinking we'll be headed up to the Maggie Valley for a visit to Wheels Through Time and then overnighting somewhere before making our way back home via US129 and the Cherahola Skyway here pretty soon. Or, perhaps we'll combine a big bike trip to Chattanooga with some tandem cycling.  Of course, the arrival of our 5th grandchild in the next two weeks will likely dictate our weekend plans for the near term….
Friday
My off-Friday became 1/2 an off-Friday as I had to use the morning for a special brain storming session at work.  
After breaking from our morning meeting at 11:15am I hopped on the Wide Glide and high-tailed it over to The Red Eyed Mule for my every-other lunch date with my wife; it's yet another one of those "regular places" that we like to go where we don't have to worry about figuring out what to order or wondering if the food will be any good! The Mule did not disappoint, even with a few new players working the order side of the operation.  We dearly miss seeing Joe and Sabra every other Friday — as that was a huge part of what made The Mule special — but so long as the folks who are "minding the store" for Joe & Sabra continue to do a good job of putting tasty food on our table we'll keep hanging in there as loyal clients! 
After lunch I headed home to knock out some errands that I had to run in the truck, e.g., picking up / dropping off shirts at the dry cleaners, picking up some weed killer, a new sprayer and some vinyl concrete mix so I could repair a troublesome spot in the driveway.  I also had to fix an exhaust fan in one of the bathrooms, which game me a little time to cool off after repairing the driveway.  After that it was back into the sun to to kill weeds.  With those tasks behind me and an hour left of my Friday afternoon before Debbie came home, I hopped back on the Wide Glide for one more short ride… just because I could: it's the best reason to ride that I can think of!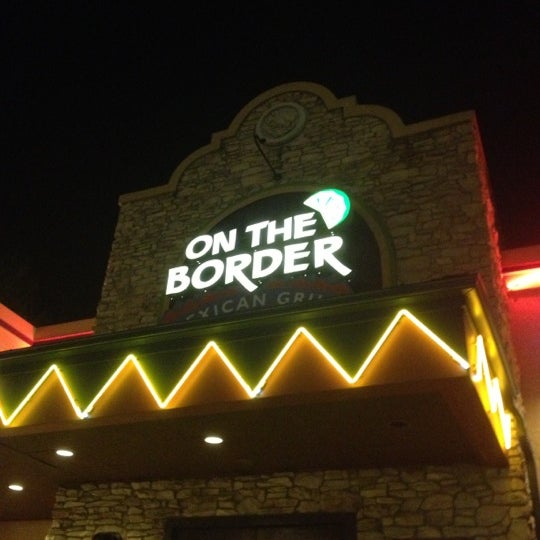 We went to our usual Friday night spot — On the Border — for our Finally a Friday celebration; however, it was actually a pretty depressing experience.  Bear in mind, we've been going to OTB just about EVERY Friday night that we're in town since 2002 when our previous "regular places" went belly-up.  For most of those years we've had the pleasure of visiting with the same guy behind the bar on those Friday visits and included him among a very short list of "good friends"…  you know, the kind of friend who would bail you out on a moment's notice.  Sadly, we lost him the week before and, as you'd expect, it was a huge loss for the entire restaurant staff and other "regulars."  While we truly enjoy the other folks who work behind the bar and the managers at OTB, we're not sure that it will ever be the "same place" it was and that may cause us to search out a new place to spend our Friday nights.  We'll see… old habits are hard to break.
Saturday
Saturday began with home banking and a tandem bicycle ride. But, unlike last weekend, I made sure our afternoon would include some time on the big bike.  After lunch at home we made the 20-mile trek over to Atlanta Harley Davidson (ADH) to check out their 50th anniversary bash, where Travis Tritt — who lives out near us and who is a long-time AHD customer — was the headliner for their event.
When we showed up the bands were between sets and I gotta tell ya, it wasn't looking like there was all that much else going on.  The vendors who were on site were pretty ho-hum and sparse: far fewer than we typically see at the poker run events.  However, we ran into our good friend Dusty and got to catch up on his latest goings-on.  I also saw Ralph R. from Southland's Full Throttle checking out the biker cruise line booth and doing his thing to stir up sales for Full Throttle. We also ran into a co-worker and fellow rider from work — Ace — who was working the AHD HOG food booth.  We didn't spend a lot of time at the event as it was just too darn hot and they'd left the parking lot "audience pit" uncovered for the event which turned all that asphalt into a giant heat sink that added an easy 10°F to the already toasty 90°F temps we were "enjoying".  Great show — Travis Tritt knows how to entertain — but just too nice of a day to be standing around in a hot parking lot.
Our next stop was The Little River Bar & Grill up on Lake Allatoona in Canton, about a 35-mile leg.  Sadly, Little River is a mere shadow of what it used to be.  Between Memorial Day & Labor Day weekends the downstairs bar would typically be open and there was nothing more enjoyable than sitting on the deck enjoying the shade, a gentle breeze and watching folks out having fun on the lake.  When we rolled in Saturday the downstairs bar was locked-up and the upstairs restaurant was a poor substitute.  It was definitely one beverage and gone: pretty sure we're done with Little River unless a lot of things change. Too bad, it used to be a great place with a nice casual menu and attentive staff.  
Our next leg was a 20-mi trip down to the The Wing Cafe & Tap House where a friend and his band were playing the afternoon gig for "The Wing's" annual Lobster Fest and, no; I have no idea what lobster and wings have in common.  It was good to see our friends and after a couple songs we decided it was time to head towards home as we'd need to figure out what we were doing for dinner and the rest of the evening.
I should note, we had the option of attending a memorial service for our friend from On The Border in the afternoon followed by a gathering of his friends and family at OTB that evening.  We thought about it, but ultimately decided that those really were events where the folks who truly needed to reach closure — close family, friends and co-workers — needed to be able to share their stories and remembrances.  As bar patrons, we'd just be interlopers… well, friends to be sure, but not close friends in the way that the people he worked with and share time with away from work were close friends.
That was it for the big-bike stuff this weekend.  We finished off Saturday night by skipping our other "usual joint" (Loco Willy's) and returned to our original regular place for Saturday's, Olde Towne Tavern & Grille.  However, in an effort to bridge the gap we encountered with service at tables, we sat at the bar and that made all of the difference in the world.  We had a very attentive gal behind the bar who really made our visit a pleasure. So, perhaps we'll make Olde Towne our Saturday haunt again and move Loco's to Friday nights, as they have pretty good Margaritas and pretty good food. We won't get to see one of our friends behind the bar, but I remain mindful that we are customers… not family.
We capped our Saturday night off with a trip to the movies and finally saw Guardians of the Galaxy from Marvel Studios: great flick.
Sunday was consumed by tandem cycling, yard work, bicycle maintenance and then recovering from heat exhaustion: man, it was HOT!